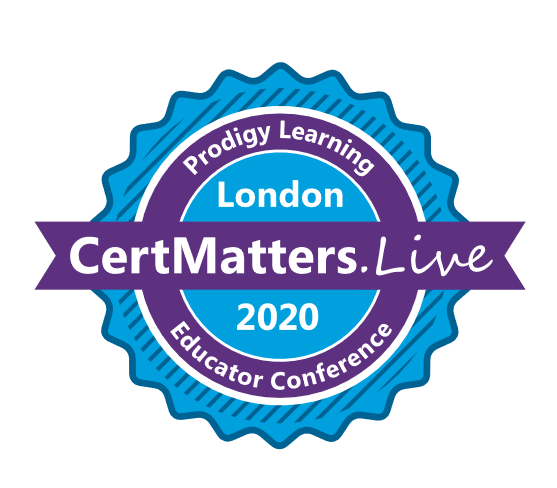 June 12, 2020
Prodigy Learning Educator Conference
The Crystal, London
CertMatters.Live 2019 is the leading, inspirational and most important event in the academic calendar year, with a clear focus on digital skills and certification transforming and building the future of education. 
What is CertMatters.Live 2020?
CertMatters.Live 2020 is Prodigy Learning's annual educator professional development event, bringing together educators to listen, learn and collaborate with peers who share a passion for digital skills and certifications to improve education and student outcomes.
Alongside CertMatters.Live on the 12th June in The Crystal, London Prodigy Learning host:
MOS UK & Ireland Student Finals

ACA UK & Ireland Student Finals
Agenda for CertMatters.Live 2020
CertMatters.Live 2020 will feature a keynote from an EdTech industry leader as well as breakout sessions showcasing customers success and best practices delivering Adobe, Autodesk, Microsoft and other digital skills certifications.
The day will run from 9.30 to 16.30 (including lunch and breaks). The event will feature exciting new announcements and close with award presentations to our Centre of Excellence Customers & UK & Ireland Student Champions. 
NEW THIS YEAR!!
Azure Skills Lab
Free Certifications Testing Lab
Coding in Minecraft Workshop
New sector focussed Breakout Sessions
Focussed Breakout Sessions – We want to showcase your success, if you're interested in speaking at CertMatters.Live please apply to speak here.
Places are limited, register for your ticket now!
Previous Headline & Partner Sponsors
Want to showcase your organisation to an elite group of leaders in education from across UK and Ireland?
Showcase your company at a key education event in the academic calendar
Exposure among UK & Ireland's most influential leaders and decision makers in education
Location! London is a global hub and one of world's top destinations for EdTech
Being an expert in your field, and a CertMatters.Live 2020 exhibitor or sponsor, you have the opportunity to feature your organisation's contribution to transforming education.
Contact us to find out more information about how you exhibit in The Crystal London and be part of the leading, inspirational, important event in UK & Irish academic calendar!
We are now accepting applications from leading Schools, Universities, Colleges, UTCs and other academic organisations to speak during our Customer Showcase Sessions at CertMatters.Live 2020.
We're looking for guest speakers from our customers across UK & Ireland! Applications must be received by 23:59 on Friday, 28 February 2020.
APPLY TO SPEAK & SHOWCASE YOUR DIGITAL SKILLS & CERTIFICATIONS ACHIEVEMENTS AT THE LEADING EDUCATOR PROFESSIONAL DEVELOPMENT EVENT!