CertMatters.Live 2019
14th June 2019, The British Library
CertMatters.Live, Prodigy Learning's annual educator professional development event was held on June 14, 2019 at The British Library, during London Tech Week in partnership with our Headline Sponsor – Microsoft.  
Save The Date
CertMatters.Live 2020 will take place on June 12, 2020 in London and is not to be missed, make sure to add to your calendars.
CertMatters.Live 2019 Highlights

CertMatters.Live brought together educators to listen, learn and collaborate with peers who share a passion for digital skills and certifications to improve education and student outcomes. It was an inspiring day with impactful keynotes from Microsoft, Adobe, seven fantastic customer best practice speaker sessions, a panel discussion with Industry Leaders from Microsoft, Adobe, Autodesk, Certiport and GMetrix and much more.
Alongside CertMatters.Live we held our UK & Ireland Championship 2019 Finals:
MOS Four Nations Championship Grand Final
ACA World Championship UK & Ireland Final
Welcome from Prodigy Learning
Securing Jobs in Tech with a perfect CV
Panel Discussion joined by Leading Industry Experts from Microsoft, Adobe, Certiport and UK Employers to give Educators direct insight to CVs that STAND OUT globally & secure students jobs in tech.
Session Speakers include: Representatives from Microsoft, Adobe, Certiport and Leading UK Employers.
Preparing Students for Jobs that don't Exist – Teesside University
Teesside University give deep insight into their Future Facing Learning Strategy and embedding Digital Skills & Microsoft Certification Programme to prepare students with tools, knowledge and expertise to thrive incomplex and uncertain futures.
Session Speaker: Neal Harper, IT Manager (Technology Enablement), Teesside University
CERT to CEO, Entrepreneurship & Digital Skills to Build Future CEOs – Birmingham City University
Birmingham City University discuss how Entrepreneurship Skills can be developed & certified within Higher Education to meet the growing demand for entrepreneurial skills by graduate employers across a wide range of industries.
Session Speakers: Chris Maguire, (Business Information Technology & Business Information Systems), Birmingham City University and Liam Matthews-Dibbins, Assistant Lecturer in Computing, Birmingham City University
Shaping Future Minds with CS – University of Lincoln
University of Lincoln give insight into delivering Computer Science topics such as Cloud, Mobile, Databases and Software Development at scale through Microsoft Technology Certification, successfully overcoming challenges & creating a future focused mindset among students, preparing them for future Digital Workplace.
Session Speaker: Derek Foster, Principal Lecturer in Computer Science at University of Lincoln
Creating the Future Fashion Industry - London College of Fashion
London College of Fashion share how they are keeping up with the pace of fast fashion and preparing students with creativity & Adobe design skills to be among top designers in the Fashion Industry.
Session Speaker: Matti Juutilainen, Staff Resources Coordinator, London College of Fashion
The Future of Making – Sheffield Hallam University
Sheffield Hallam University discuss how to build future innovators & prepare students with Engineering software design skills for the 21C Industrial Revolution through Autodesk Certification.
Session Speaker: Geoffrey Olner, Senior Lecturer, BIM & CAD Specialist, Sheffield Hallam University
How to Create Super Staff: Maximising Staff Productivity – The Grimsby Institute
The Grimsby Institute demonstrate how they raised overall effectiveness and productivity across the organisation by upskilling staff in applications they use everyday – Word, PowerPoint, Excel with Microsoft Certification Programme.
Session Speaker: Elaine Topham, Senior Learning Technologist, The Grimsby Institute
MCE in Action
Brynnau Primary School discuss 21st Century Learning Design and how implementing an effective, well designed CPD programme can impact on teaching to improve education and student outcomes.
Session Speakers include: Sue Jones and Vanessa McCarthy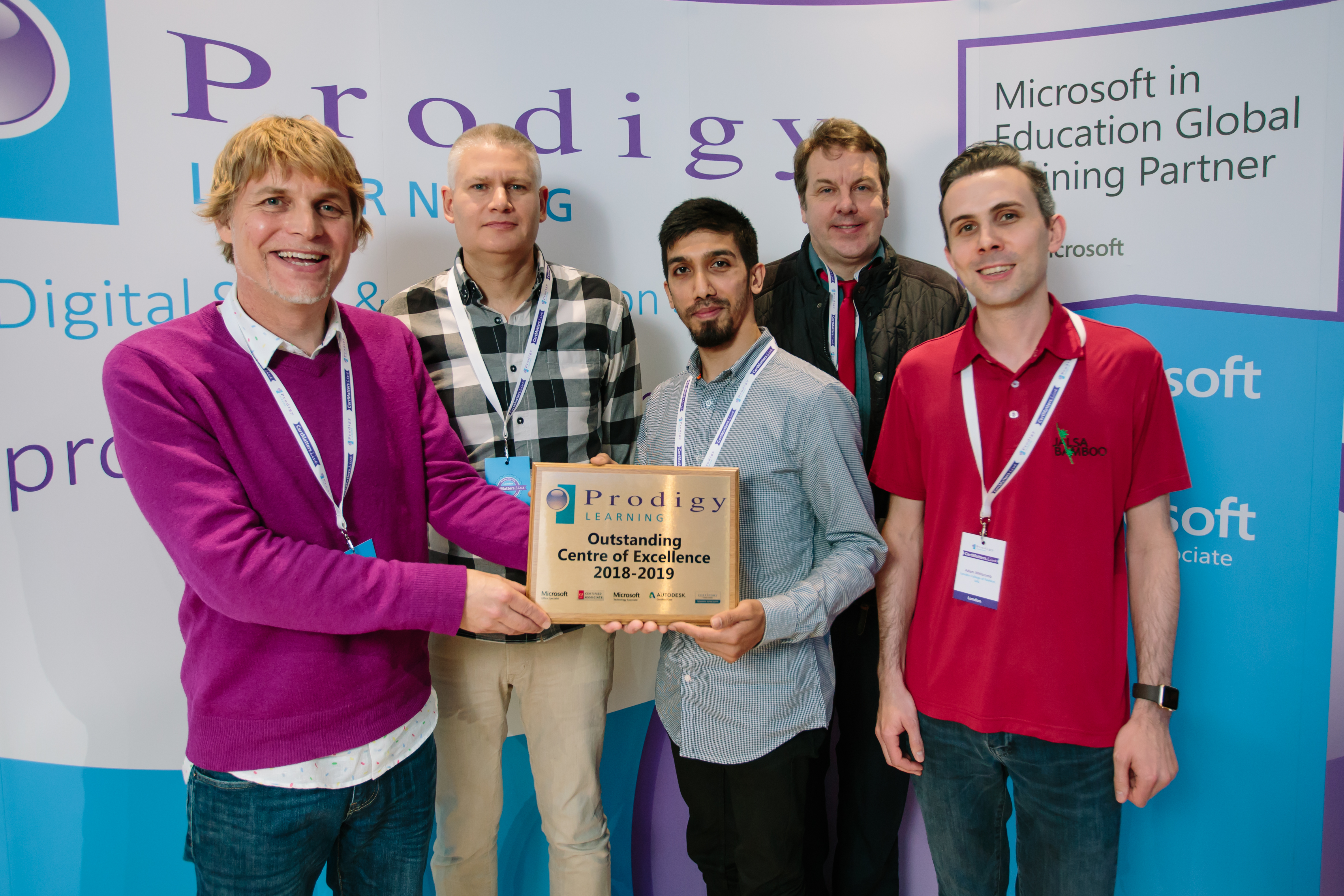 For a full selection of images from CertMatters.Live please click here.
There were many highlights throughout the day and huge social engagement with CertMatters.Live attendees using #CMLive19 which have been collated and is in our Twitter Moment collection.
Prodigy Learning invite the BEST of the BEST Microsoft Office and Adobe Design students from across the UK & Ireland to compete in the Microsoft MOS Four Nations and Adobe ACA UK & Ireland Championship Finals at CertMatters.Live.
3 MOS Champions and the ACA Champion each won the trip of a lifetime to represent UK & Ireland in the Certiport World Championship Finals in New York, July 28-31, 2019.
Introducing the MOS4N UK & Ireland Champions:
Excel: Adam Drummond, St Ninian's High School
PowerPoint: Mark Cooper, Warwick University
Word Champion: Amelia Robertson, Denmark Road High School
Introducing the Adobe ACA UK & Ireland Champion:
William Core, Coventry University